1999 - 2001
Every beginning is difficult
In the beginning it was Christian Miele and Thomas Welle who financed their studies through tennis training and founded a tennis school in 1999. As tennis coaches, they were often asked to advise on what was the best equipment to use. They then decided to do what they did best and what they enjoyed the most.

They came to the decision to become self-employed and fulfilled the dream to open a sports shop that was Pure Tennis. In 1999, a 32m² small tennis shop was built on Steinfurter Straße in Münster. During this time Philipp Tippkemper was in the middle of his studies. However, he found the tennis business of his trainer, Christian Miele, much more interesting and decided to start working with him.
2002 - 2006
First steps
In 2002, Welle & Miele GbR took over the Weikert sports boutique, whose owners, Weikert, decided they wanted to retire. There was a 200m ² large sports shop in the Hörster road with a specialization in tennis and golf, and slowly made a name for the company in Münster. The premises became too small as the supply and demand increased. "However, the income received was not quite enough to live on. We gave training on the side and alternated working in the shop. For this reason, we opened a bowling center in 2004, which gave us additional capital to invest in the tennis business. "(Christian Miele)
In 2006 the company moved on to the Alte Fischmarkt. The new 50m² sports shop for fun sports with a focus on tennis was thus close to the Lambertikirche in the city center of Münster. "At that time we asked ourselves where the journey should go and how the market will develop. We often sat at the counter in the bowling center and exchanged ideas, virtually brainstorming. "(Laughs Christian Miele)

"We were sure that the future lies in an online shop. Funnily, we can only now fulfill some of the ideas we had in the early days. "(Christian Miele)
2007
Go Online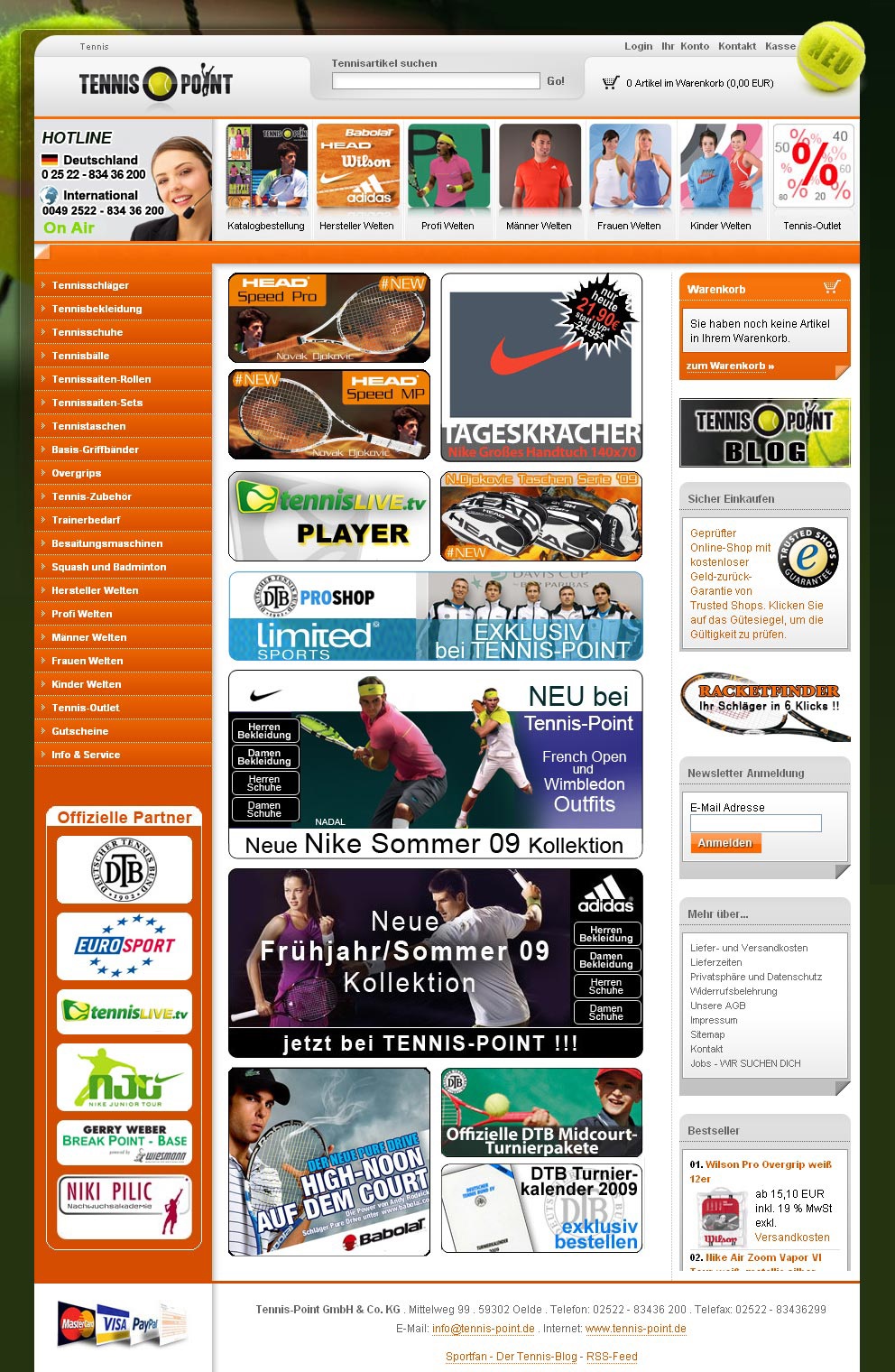 In 2007 the company Tennis-Point GmbH & Co. KG was founded. Maik Langenberg, a tennis buddy from the past, and Philipp Tippkemper join the company as managing partners. "Maik was responsible for IT and logistics, and Phillip for online. We had different skills and talents and complemented each other very well, which has greatly contributed to our success. At that time, we had so much to do. We had to run the bowling center, work in the shop and manage our online shop. "(Christian Miele)

"The biggest problem was that everything was a manual process. Philipp photographed all products with a camera, uploaded them to the online shop and sold them.  On some occasions we fell asleep during lunch breaks or forgot to lock the doors. "(Christian Miele)
2008
First catalogue and TV spot for Eurosport
"2008 we made our first catalogue with a provocative cover "Nice ass ". On the cover is the picture of the butt of a waitress in the bowling center in a short red tennis skirt. We got a lot of critics and were called by a catholic pastor who called us "pornographic ". Nevertheless, it was important for us to stay creative and try some things other companies didn´t. (Christian Miele)

"At the Australian Open in 2008, we called Eurosport at 3 o'clock in the morning and introduced our idea. We beat Zalando to been the first online shop to advertise on TV. At 11 o'clock in the evening the advertisement was due to air. We bought a bottle of sparkling wine and went home to Christian to see the advert together. We were very excited. A few minutes after the advert, the site crashed due to the huge amount of visitors that where brought to the webpage due to the success of the advertisement.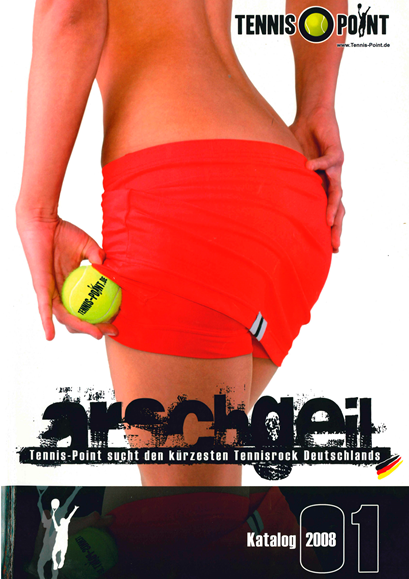 That's when we realized we needed to expand our server capacity. Nevertheless, we were not put off by this influent start and worked harder on creating a professional online shop. "(Philipp Tippkemper)

"This year we moved to Oelde in a 300m ² large hall. We worked every night until 1 o'clock in the office and each of us did every job: we answered the phone, strung rackets and worked in the store. "(Christian Miele)
2009 - 2010
New partners & relaunch of the webshop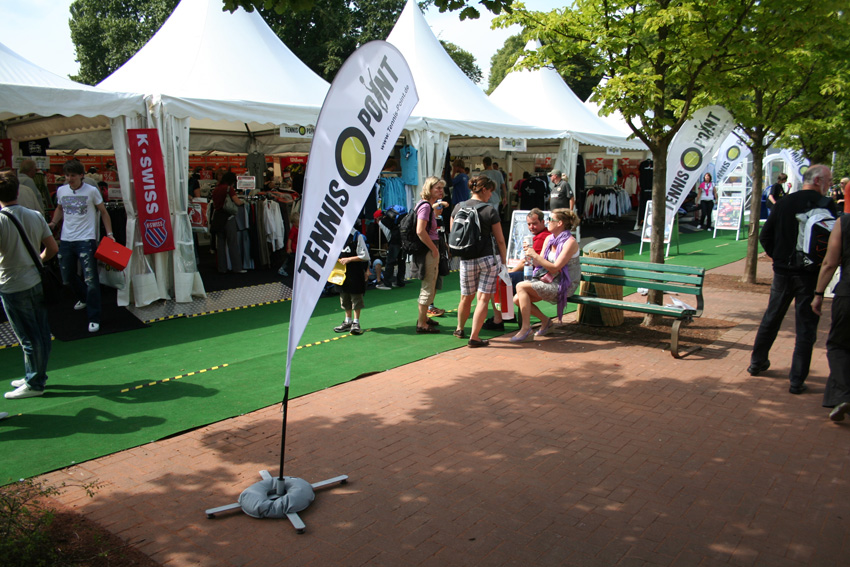 With the ARAG World Team Cup in Dusseldorf, the Weissenhof in Stuttgart and the German Open at the Rothenbaum in Hamburg, Tennis-Point was able to accompany and organize further tournaments in 2009. Furthermore, Tennis Point partner of the DTB (German Tennis Association), the WTV (Westphalian Tennis Association) and the Hamburg Tennis Association. In Muenster on the Friedrich - Ebert - Strasse was built with 330m ² Germany 's largest sports shop, which specialized exclusively on tennis.

In 2010, Tennis-Point is expanding its shipping logistics, among other things, by expanding its warehouse. In order to make shopping on www.tennis-point.de even faster and simpilar, a relaunch of the webshop took place. In addition, this year, the Tennis-Point Facebook page was launched, as well as our own Youtube channel to provide tennis enthusiasts a platform to exchange clips with other tennis players.
2011
Award for Online Shop of the Year
Tennis-Point is voted the Best Tennis Online Shop 2011 by the readers of the Tennis Magazine. In addition, Tennis Point will is named Online Shop of the Year at the German Mail Order Congress.

Thus, the specialist for tennis equipment prevailed against ten other nominees and follows in the footsteps of previous winners such as hagebau.de, fahrrad.de or otto.de. The award enjoys the reputation of the "Oscars" of the online and mail order industry.

Further stores in Berlin and Hamburg have opened and offer everything the tennis player's heart desires.
2012
Moving to Herzebrock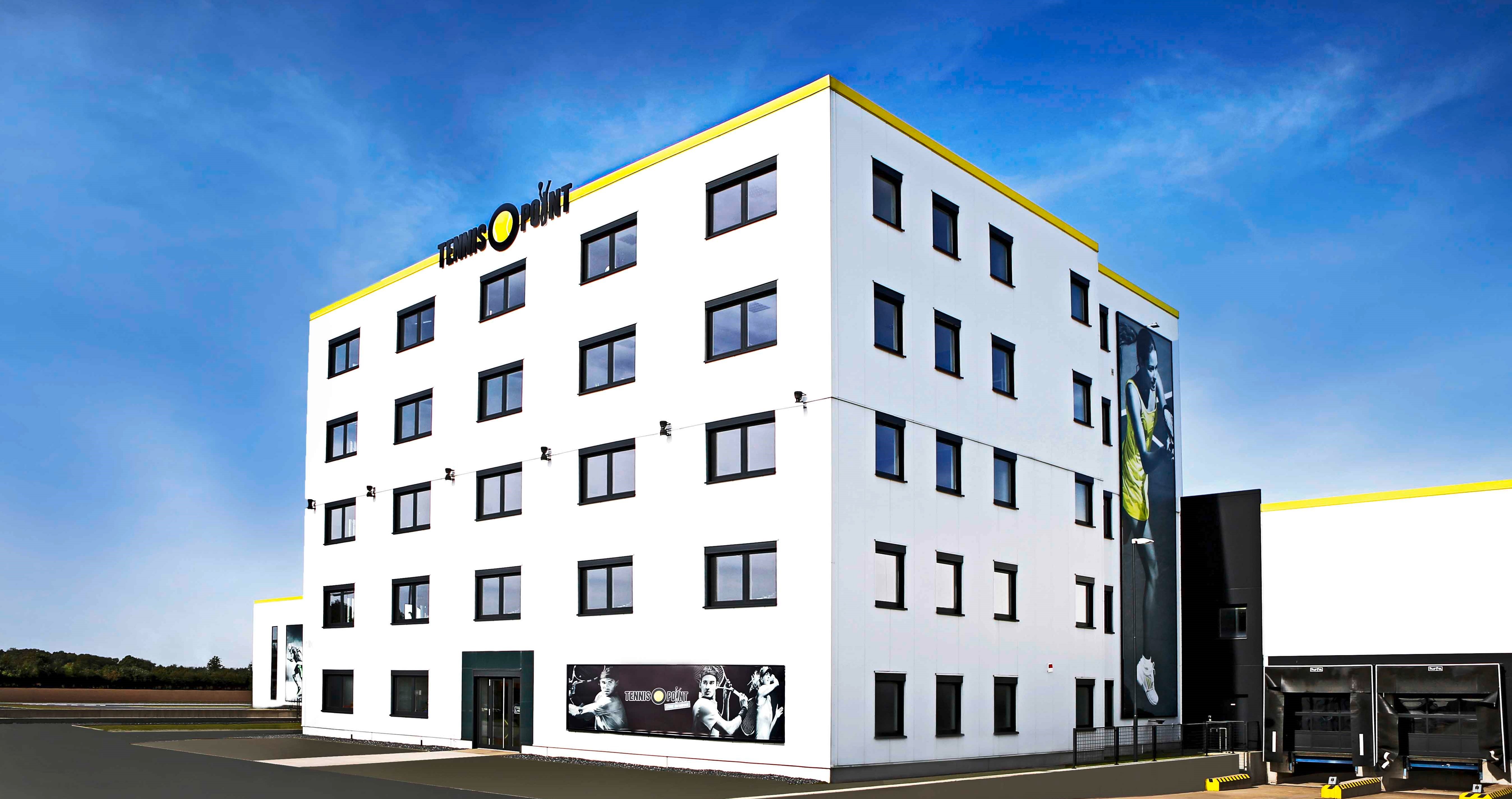 Tennis-Point moved to Herzebrock in a building with 2000m² office space and 8000m² storage area and opened three more shops in Hamburg, Graz and Herzebrock.

In addition, jogging-point.de was launched in order to be able to offer customers the right equipment for this growing sport.
2013 - 2015
More logistics power and usability
A key to this rapid growth was the "Auto Store system" introduced at the new location with 22 robots, which automatically sort goods inventory 20 hours a day. "The automated logistics department is our core". (Christian Miele)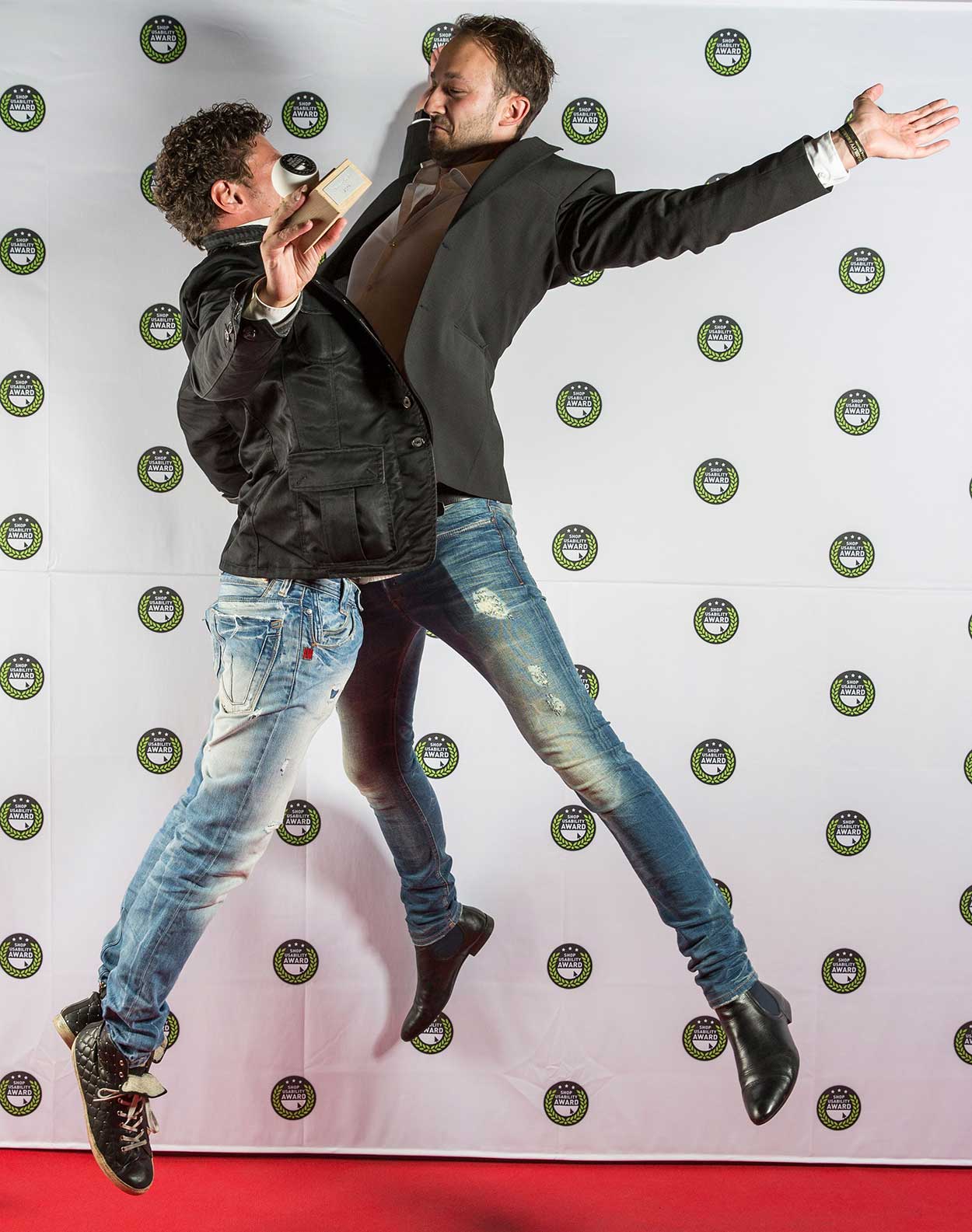 In 2014, Tennis-Point was crowned with the most prestigious and important eCommerce award in Germany, the "Shop Usability Award". That was the confirmation that with our store we provide creativity and show our commitment and dedication to a user-friendly shopping experience.
2016 
Tennis, Padel & more
In 2015, Tennis-Point expanded its store network and stores were established in Cologne and Vienna. One year later, the openings of the stores in Frankfurt, Stuttgart and Munich followed.

"In 2016, we discovered our love for the Padel and built a Padelcourt for our employees and customers. This was enthusiastically accepted by our tennis-loving employees and there are often have small tournaments taking place between the various departments. "(Christian Miele)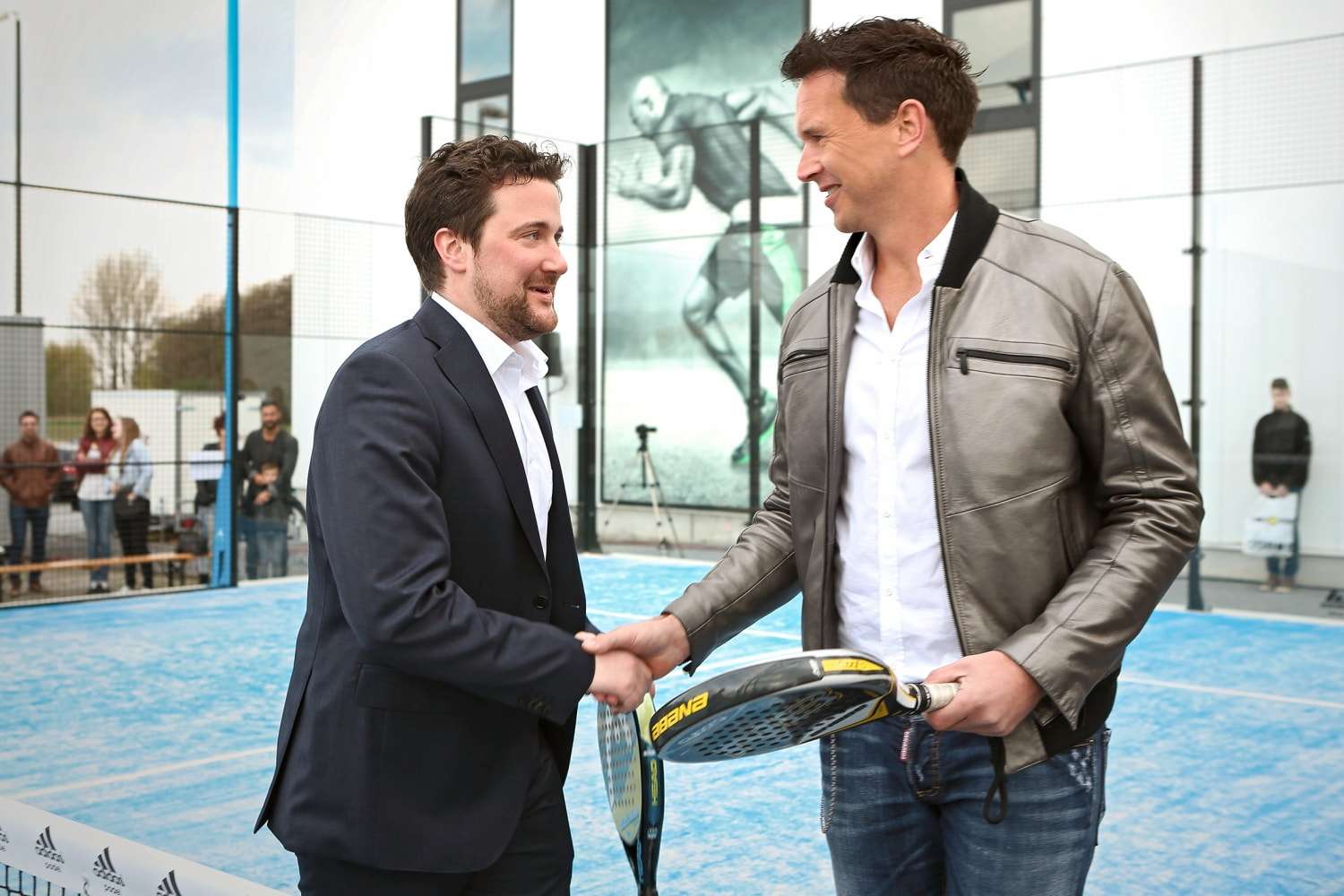 2017 
Even bigger and stronger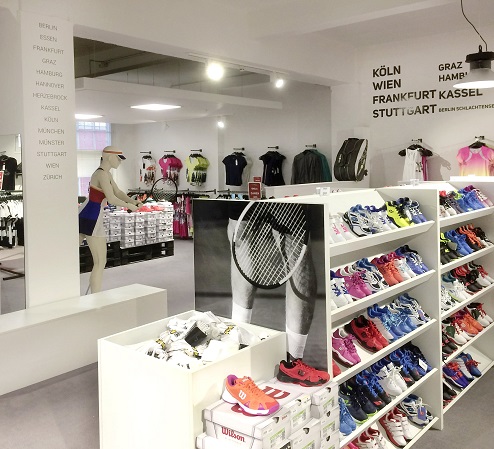 In 2017, Tennis-Point became part of the Austrian real estate and trading company Signa Holding GmbH. "Thus, we have brought in a strong partner to our side, from whose comprehensive retail expertise we can learn." (Christian Miele) Furthermore, the tennis-point team was reinforced this year by an experienced businessman - Sascha Beyer. With more than 20 years of experience in the IT industry and expertise in security and Internet business, Sascha Beyer has been Managing Director of the Executive Team since September 2017.

To get even closer to our customers, the world's largest tennis shop with around 1500 m² was recently opened in January 2018 in Essen-Kray. "We know that consulting, trying out the new tennis shoes and tennis apparel is very important to many tennis players. With our largest branch in Essen, our customers experience pure tennis on an area of about 5 tennis courts. "(Christian Miele)
2018 
MORE TENNIS. MORE SUN. MORE HOLIDAY.
TENNIS TRAVEL- NEW TO RANGE
A perfect double: Tennis-Point, Europe's largest supplier of tennis equipment, and Patricio Travel, Europe's largest organiser of Tennis holidays now work in cooperation to offer exclusive tennis travel. To ensure that you not only have a perfect forehand on holiday, we offer you a complete packet.
‍
As always, Patricio Travel provides the best conditions: Perfect sand courts, exclusive hotels in the most beautiful spots with endless sandy beaches, sunshine and parties — everything is included, no matter whether you travel alone, in a team or hobby group, with or without coach.